How Voice Amplifiers Can Help Teachers During Pandemic
Posted by WangBin on
Teachers during the times of pandemic caused by the COVID-19 are exploring a state-of-the-art set of tactics that will cope with the 'new normal' for today's condition.
 
As a teacher whose voice is his/her cornerstone, exhaustion is one of the many problems they encounter in their career. They frequently talk and talk for hours in weeks for them to make their discussion in class. Talking is much the same as breathing twice of air which diminishes the carbon dioxide (CO2) and oxygen (O2) content in the human brain.

 
What's the disadvantage of talking too much?
 
Excessive talking causes teachers to experience dizziness, weak-headedness, absent-mindedness, unsoundness of the mind, and muscular tension, especially in the esophageal area.
 
To teachers who often have lots of lessons to tackle with their students intend to discuss a lot that may cause harmful side effects and may contribute to constantly recurring diseases such as cancer, heart disease, diabetes, obesity, etc.
 
If you are one of the heroic teachers out there, this is excellent news for you!
Because of the COVID-19 pandemic, orthodox in-school classroom arrangement, which is face-to-face learning, will not be occurring this time to avoid the spread of the virus for the safety of all teachers and their students. An online or flexible learning strategy will be offered to the students to continue education even in times of the pandemic.
 
Giving lectures to students for hours daily tends to stress the esophageal muscles, which could affect their performance as a teacher. Prevention is better than cure as we all are aware of.
 

What is a Voice Amplifier?
 
Voice Amplifier is the best instrument or device to use as part of teachers' strategy in delivering their lessons. In using this device, it can give better audio quality for the students for them to understand what the teacher is saying easily.
 
Voice amplifier is a portable device with multi-functional features such as:
 
It has a PA speaker system with microphones that have built-in UHF double-emission and double-receiving function, which can be wired, or wireless.
It uses Bluetooth technology at the same time, and the speaker itself also can be connected to your phone to play audios.
It comes with a special feature wherein the amplifier may also be used as a power bank during an emergency when the teacher's mobile phone's battery is running low.
It has a built-in  USB and TF card support, aux cable ports, a recorder, and a radio.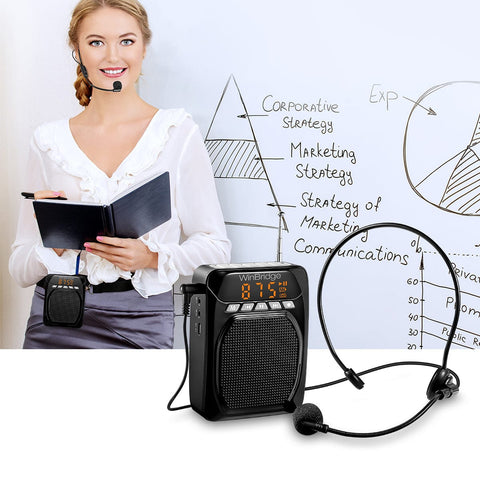 You can find different models of Voice Amplifier here. https://www.winbridgepower.com/c/voice-amplifier-0384
  
How Can Voice Amplifiers Help Teachers During Pandemic?
 
These are the ways on how Voice Amplifiers can help teachers in the 'new normal' way of teaching:
 
Speak with ease.
 Voice Amplifiers will help teachers to exert less effort in how they will give utterance to the lessons to be discussed to their students. Instead of delivering their lectures loudly or amplifying their voices manually, voice amplifiers will do the work for them. Teachers will not tire their throats in providing the lessons because they can even speak softly, and the voice amplifier will give a loud and clear message to the students.

Minimize mental stress.
Stress is one of the greatest enemies that a teacher conquers. It cannot be avoided, especially when students do not get or understand what the teacher is saying, which causes questions that will be flooded to them. It can affect their performance in how they will be teaching. But with the use of a voice amplifier, mental stress can be lessened because lessons will be delivered to the students loud and clear and the teacher will be placed confidence in all his/her efforts in discussing that the students received the lessons very well.
Minimize muscle stress.
 Esophageal muscle is the one that is greatly affected when we talk for an extended period of time, especially to teachers who teach lessons to their students for numerous hours. With the use of a voice amplifier, teachers will not need to speak loudly just for the students to hear clearly what is being said. Teachers will be able to give off the best they can be in teaching their students as always being in good shape.
More efficient learning.
By using the voice amplifier, lessons or lectures by teachers will be stated loud and clear for the students as it provides the best audio quality for better learning. Students will receive the information without sound barriers which are commonly due to low-quality audio output by some microphones of the device being used by teachers. Examples are those being used in teaching for online classes as this will be implemented as the 'new normal' way of education in times of pandemic.
Amplify for hours
The Voice Amplifier is equipped with USB Aux wherein you can connect it to your laptop or desktop to give power supply. While the voice amplifier is connected to your device, it is also charging power to itself, so you do not need to worry about the amplifier's capability. Teachers can use the amplifier for their entire class schedule.
 
 
Classroom-like presentation.
If the teacher is fond of using a blackboard, whiteboard, charts, or any other teaching strategy, the Voice Amplifier can be carried around with the use of the waistband and use the wired microphone in discussing the lesson if the teacher has a board at home. The teacher can also use the wireless microphone because the Voice Amplifier is also equipped with Bluetooth. The teacher can choose either of the two depending on what is comfortable for him/her.
Prevent chronic diseases.
 
With the help of the Voice Amplifier, teachers will not need to force their throats just for the students to hear clearly what they tend to state. By not stressing their voices, a sore throat will not be a problem, and even chronic diseases such as cancer, heart disease, and diabetes will be avoided. Carbon dioxide and oxygen will be more sufficient as the teacher will exert less force in talking or discussing the lessons to their students.
 
If you are interested in Voice Amplifiers to help you in teaching, you can find it in this link and choose what model will fit your desire. 
https://www.winbridgepower.com/c/voice-amplifier-0384
← Older Post Newer Post →